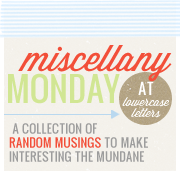 {
linking with carissa}
1. I'm sitting criss cross applesause, it's been a while since I've done that due to my
spontaneous knee incident
. My knee is definitely getting stronger, Praise God!
2. I got to go home early from work last night, which was strange and funny. My manager was having a mini heart attack when he found out I was scheduled til 11pm.
"Do you have school tomorrow?"-him
Yes
"then why are you scheduled so late?"
I don't know...haha
"But tomorrow is a holiday"
I have my college classes tomorrow
Oh but you don'y have highschool right?-lady interjects
Nope,but I'm homeschooled anyway.
*****
Which later lead to, "Hey you don't need Lacey anymore do you?"
Nope.
"Okay, you can peace out now."
okaaaaay?
"Once it gets past 10:30 I just...freak out"
3. Citing sources.
ugh.
citing sources isn't that big of a deal right? slap the link in the paper proving no plagiarism and your good to go right? well yes and no. Usually that's the
first
step, I had to annotate each source, thankfully this go around I only had to annotate four. I'm writing a research paper on the benefits of Adult stem cell research. I'm very interested in this subject, any time I have the opportunity to talk/write/ research about
anything
related to medicine I get super excited. {
yes, I'm a nerd, and I can't wait to become a nurse :D }
4. Back to my job. I love.love.love.love.love.love.love.love. my job. I'm so thankful to have one, in the first place. But I honestly get excited to go to work every chance I get. The management is superb! I work for the best people ever. ever ever ever :) Also, Publix* is the perfect niche for me. Publix emphasizes customer service and being friendly. Meaning smiles and be polite to people, I love that! Coworkers ask me why I look so happy all the time and ask me to (sarcastically) stop. No, I'm not a zombie who never gets depressed sad or disappointed, but I do have a lot of reasons to be happy. :)
*
publix is a grocery store where i am currently a cashier*